Welcome to Be Connected
Be Connected is an Australia wide initiative empowering all Australians to thrive in a digital world. We have online learning resources as well as a Network of community partners – the Be Connected Network – who offer in-person support so you can develop your digital skills and confidence.
info@hepburncentre.com.au or ph 9342 5303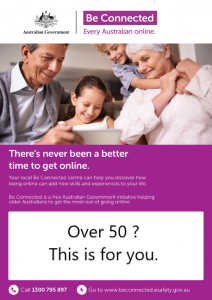 Community Connections
In addition to our home care services, our clients are able enjoy our unique social program Community Connections.
Offering an exciting and ever changing menu of social activities, entertainment, weekends away, excursions, historical tours and day trips – this program is both beneficial to mental health and offers a great way to connect with new friends and get out of the home.
Learn how to access this great program here. https://www.enrichliving.com.au/resource/accessing-community-connections/